/

About USISC

US - India Security Council, Inc. (USISC) is a registered 501(c)(4) non-profit organization based in Washington, D.C., with the mission of increasing interaction between the security communities of the two great democracies - the United States and India. USISC believes that the strategic partnership between the US and India furthers peace, prosperity, and security for both nations.

The US - India Security Council, Inc. is a bipartisan organization to encourage closer ties between US and India and to promote the idea that the prospect of working closely with India will augur well for the security and solidarity of the US.

USISC began as a grassroot/grass-top coalition of Indian American citizens who supported the US - India Civil Nuclear Agreement between 2006 and 2008. Most recently, the Council played an important role in the passing of the 2017 National Defense Authorization Act. The organization continues to advocate for a robust US - India security relationship and facilitates the US - India Security Forum, a monthly meeting that brings together military and security professionals, elected officials, and political appointees, in Washington and in New Delhi, to foster the exchange of information and ideas.

The US - India Security Council through the US - India Security Forum hosts periodic events to foster the exchange of information. It coordinates with Vivekananda International Foundation - an India-based independent, non-partisan institution that promotes quality research and in-depth studies, as a platform for dialogue and conflict resolution.

Key Objectives:

USISC seeks statutory and regulatory reforms to promote U.S. security interests in the South Asia region, strengthen the U.S. - India defense relationship, and enhance US - India defense trade.

There are three key objectives:
1. Memorialize the existing Defense Framework into law;
2. Amend any rules or regulations that are anachronistic to a stronger US - India defense relationship; and
3. Update the US export control and procurement rules and regulations to reflect the accelerated and significant security relations between the United Sates and India and the intent of the existing Defense Framework.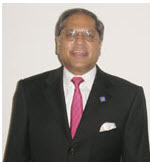 Ramesh V Kapur
President
Mr. Ramesh V. Kapur is the president of Medical-Technical Gases, Inc. Medical-Technical Gases, Inc. was founded in 1961 and was taken over by Mr. Kapur in 1981 through a turnaround buyout. Med-Tech Gases is a processor and manufacturer of industrial, medical and specialty gases and gas mixtures. The company, located in North Billerica, MA, is recognized as an innovator in value-added products and services and competes with large global companies.
Mr. Kapur helped raise funds for Sen. John McCain in Washington, DC and in Phoenix Arizona in 2016. Mr Kapur helped to arouse the interest of Indian Community in Arizona to come out and vote for the Senator in the primaries as well as in the final Election. Mr. Kapur also helped to put a fund raiser for Chairman Mac Thornbury in Washington, DC.
Ramesh V. Kapur is the founder and president of the Indian American Security Leadership Council, which was incorporated on July 18, 2006. The name was changed to US India Security Council, Inc. on July 7, 2010. US India Security Council, Inc. (www.usiscouncil.org) is a bipartisan organization to encourage closer ties between U.S. and India, and to promote the idea that U.S.'s future security would be greatly enhanced by working closely with India.
Ramesh V. Kapur, as President of U.S. India Security Council, Inc., has lobbied the India related NDAA (2017) language since June, 2015 within both executive and legislative branches. Section 1292 of this language ("Enhancing defense and security cooperation with India") was passed in December, 2016, with strong support from Chairman Mac Thornberry in the House and championed by Sen. John McCain in the Senate and in the Conference Committee (All the expenses for this national security endeavor was paid by citizens of the United States.)
Since 1986, Mr. Kapur has also been very active in the Indian-American Forum for Political Education, a bipartisan organisation. This association is the most effective bi-partisan Indian-American political organization. It has been highly effective in getting Indian-American youth involved in American politics in various ways including internships with Congress, the Senate and the White House. This organization also supported candidates to run for political offices in the Congress and the Senate.
Mr. Kapur has been a member of the Medford, Massachusetts Rotary Club since 1986 and was president during the 2001-2002 term. In 2000, he had initiated the Medford Rotary's $50,000 raffle, which he chaired for four years. These raffles have raised the highest amount of funds annually in the history of the Medford Rotary Club.
Ramesh V. Kapur is a founding charter member of The Indus Entrepreneurs ("TIE")-Boston. As a charter member of TIE-Boston, he has mentored numerous entrepreneurs and has also been an angel investor in several companies. Mr. Kapur has been working diligently to get the Indian-American community involved in charity and politics.
Mr. Kapur is a founding board member and past treasurer of American India Foundation ("A.I.F.") which was organized in January, 2001. He has helped the A.I.F. raise funds and has recruited numerous trustees that have been generous financially to the foundation. Since its inception, President Bill Clinton has been the honorary chair. Since 2001, A.I.F. has raised $8 million per year, and has donated $1 million to the education fund established by Bill Clinton and Bob Dole for the children of the victims of 9/11.
Mr. Kapur was instrumental in getting the support of Senate Minority Leader Tom Daschle to appoint Ms. Preeta Bansal in 2003 as Commissioner of the U.S.Commission on International Religious Freedom, a bipartisan independent federal agency.
Ramesh Kapur's passion since 1986 is in building US-India relations. He believed in it then and continues to believe in it now. Mr. Kapur has met privately with all of the prime ministers of India since Rajiv Gandhi. Under the Democratic administration, and with years of frank discussions on both sides, US-India relations are the best they have ever been. Mr. Kapur was the key person to convince the democratic members of the House and Senate to vote for the U.S.-India Peaceful Atomic Energy Cooperation Promotion Act. Eventually, 86% of all Democratic house and senate legislators voted for the Republican President's bill.
Mr. Kapur has written articles in India Today, India Abroad, News India, India West and other Indian-American publications. His interest in small business development, privatization of the energy sector in India and Indo-US trade relations culminated in getting an invitation from Energy Secretary Hazel O'Leary and Senator John Kerry to visit as a special trade delegate.
Ramesh V. Kapur was on the DNC site selection committee in 1992 when New York was chosen as the Democratic convention site that year. Mr. Kapur was founding National Chair of the Indo-American Leadership Council for Democratic National Committee; Member of the Board of Directors, Indian American Council, Democratic Congressional Campaign Committee (2005-06); National Finance Board member, Democratic National Committee (2006-08). Mr.Kapur is the Co-Chair for Joe Biden (BFP)/ Kamala Devi Harris for Vice President - National Finance Committee.
Mr. Kapur was also specially invited by Hillary Clinton to accompany her to pay homage to Mother Teresa. He headed the ad hoc delegation which traveled to India with President Bill Clinton in 1999. Mr. Kapur hosted the first reception for President Clinton on his arrival in India.
Mr. Kapur became a naturalized citizen on June 23, 1978. He and his wife, Susan, have been married since 1973. His hobbies include golf, racquetball, reading and fundraising.
---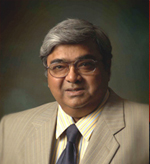 Vikram Vithal Rajadhyaksha
Vice President
Vikram Vithal Rajadhyaksha (Raj) currently serves as Chairman and Chief Executive Officer of DLZ Corporation, which was established in 1989. DLZ Corporation, the largest privately-owned A/E firm in Ohio, is the parent company for all the acquired companies. Much of Raj s time is now spent planning for continued growth and expansion in the U.S. and internationally. From six employees in 1979, Raj now has responsibility for over 600 full-time employees, with offices in Ohio, Michigan, Indiana, Illinois, Kentucky, and throughout India.
Raj is a registered Professional Engineer in twelve states in the United States. He began his career with G.K. Jewell and Associates, a geotechnical engineering consulting firm. While there, he served as a project engineer for many types of projects, including highways, dams, waste disposal facilities, and high-rise buildings. Raj developed specialized expertise in the design and construction of earthen dams. After the passage of the Ohio Dam Inspection law, he began working for a regulatory agency of the Ohio Department of Natural Resources, Division of Water, where he served as head of Dam Safety. He was given project management and administrative responsibilities in conducting safety inspections, geotechnical investigations, hydraulic and hydrologic studies, design of new dams, and rehabilitation of existing dams.
In 1979, Raj took advantage of an opportunity to purchase controlling interest in a local engineering firm, Dodson-Lindblom Associates, Inc. As President of the Company, much of the task of marketing to the government sector became his responsibility. He was initially involved in many of the civil engineering projects completed by the firm, with special emphasis placed on water resources, hydrology, and hydraulics.
Raj actively participates in several professional organizations, including the American Society of Civil Engineers, the Society of American Military Engineers, the US Committee on Large Dams, the US India Business Council, and the US Hydropower Council for International Development. Raj is a past board member of the US India Business Council and the University of Cincinnati Board of Trustees.
Raj received the Entrepreneur of the Year Award in 1990. Raj received an honorary Doctorate of Humane Letters degree from the University of Cincinnati in June 2000.
He received his Bachelor s Degree in Civil Engineering from the Indian Institute of Technology and his Master s Degree in Civil Engineering from the University of Cincinnati, where he received his Master s Degree in Civil Engineering.
Raj was awarded the Maxell Award in 2012 International Entrepreneurship by the Government of Maharashtra, India.
Raj is an avid collector of contemporary Indian art and has one of the largest collections of this artistic genre in the United States. He enjoys playing golf and spending time with his family and friends.
---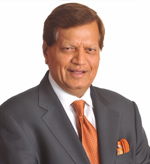 Ashok Trivedi
Chairman, Trustees
Ashok Trivedi is a seasoned entrepreneur and a visionary thinker. Over the last 30 years, Ashok has been involved in recognizing impactful discontinuities in the technology business landscape. He co-founded Mastech Corporation in the late eighties - a breakthrough technology company that focused on Open Systems Computing which later paved the way for client-server technologies. In 2000, Ashok co-founded iGATE Corporation that spearheaded an operating model discontinuity in the IT services business and gained a pole-position, offering IT and business processes on an outcomes-driven model. In 15 years, iGATE's revenues rose to $1.3 billion and was acquired by Capgemini in July, 2015 for $4.2 billion. Mastech today, is on a path of transformation into a digital technologies company. His vision and forethought in technology services has resulted in significant job creation and positive social impact globally.
As the Managing Partner of SWAT Capital, Ashok is responsible for managing investments for the Trivedi Family Office (Trivedi Family Foundation and The Trivedi Family Charitable Trust). He has been an angel investor in over 50 early stage technology and financial services businesses including Edelweiss Capital, Cvent and CBay and has led the launch of over 10 new IT services businesses in emerging technologies.
Ashok is the Founder and Trustee of the recently launched Ashoka University, a private, nonprofit university that offers its students a multidisciplinary liberal education, one that transcends the boundaries between the arts and sciences.
Ashok is also the Founder and President of the Pittsburg chapter of TiE - a global community promoting entrepreneurship and the Founding Member of the Indian Angel Network.
Ashok holds an MBA from the Ohio University and a Master's in Physics from the Delhi University. He has attended the Owner/President Management Program at the Harvard Business School. He is honored with the "E&Y Entrepreneur of the Year" award among others.
Ashok enjoys traveling, reading and golfing.

---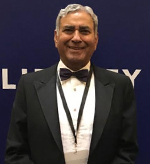 Krishna Srinivasa
Executive Director
Krishna V. Srivivasa is a businessman based in Atlanta, Georgia. He has a Master's Degrees in Economics and Information Systems and over 30 years in Data Processing. He is a Delegate to the National White House Conference on small business. He was the Past President, Indian American Forum for Political Education, C0-Chair, Asian Americans for Reagen-Bush, 1984. Chair, Indian Americans for Bush-Quayle 1988, 1992 and President, Professional Consulting Services, 1980-1998. He has supported the campaigns of the President George W. Bush in 2000 and 2004.
Krishna has planned, organized and raised funds, with the support of Indian Americans, for the reelection campaign of Senator John McCain, Chairman, Senate Committee on Armed Services, in Washington, D.C., on May 26, 2016.
He also organized a second and more successful fund raiser, with the Indian American community leader, Dr Gautam Shah in Phoenix, Arizona, on August 26, 2016.
In addition, Krishna has helped Indian community to rally and support Senator McCain in his bid for reelection with the large support of Indian Community in Arizona.
He has also planned, organized and raised funds, with the support of Indian Americans, in Washington, DC., for the re-election campaign of Congressman Mac Thornberry, Chairman, House Armed Services Committee, on September 12, 2016, in Washington, D.C.

---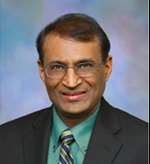 Narsimha Koppula
Treasurer
Mr. Koppula has over 25 years of experience in the field of information technology and management. Mr. Koppula is Co-Founder and President of a successful Information Technology Services company, Ace Info Solutions Inc., based in Virginia. The Company serves various federal government agencies on their IT, Cyber Security and Homeland Security needs.
Narsimha Koppula is passionate about US-India relations and has been the Executive Director of the US-India Security Forum (USISF) since 2009. He has been instrumental in conducting many successful events with experts in various security domains to help the US and India to understand each other and increase cooperation on various security fields.
Prior to that, for many years he conducted events on US-India related issues under of Deen Dayal Upadhaya Foundation in Washington DC. He actively participates with various local and national Indian organizations and promotes participation of Indian-American community in US political process.
Mr. Koppula received a B.S. in Civil Engineering from JNT University in India and his M.S. in Structural Engineering from West Virginia University.

---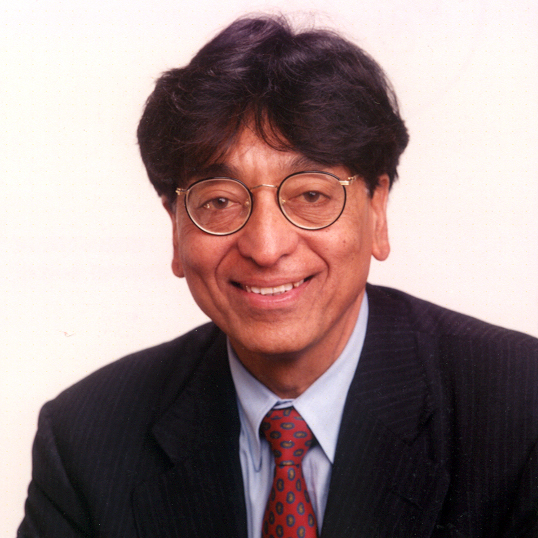 Dr. Suvas Desai
Secretary
Dr. Suvas Desai is a Founding Member and past President of AAPI - American Association of Physicians of Indian Origin. He also served as its first Delegate to the American Medical Association - AMA. During his tenure as President of AAPI, Dr Desai was instrumental in Starting the AAPI Medical Equipment Donation Scheme to India with the active support of the Indian Government.
Dr. Desai was a principal coordinator of the First ever Kentucky Trade Delegation to India - led by Kentucky Governor Steve Beshear - in October, 2010 . This subsequently resulted in Several Indian Companies established in Kentucky - reversing the perception of outsourcing to India.
Currently, Dr. Desai serves on the Board of KET - Kentucky Educational Television- the leading Public TV Station at the National level. He also serves on the Board of Midway College- in Midway, Kentucky- and a Pioneer in Women's education.
Dr. Desai is the President of NIMAX International, a consulting Company- as well as - a Former Advisor to Aegis Global Inc.- an International BPO Company- with over 60,000 employees world-wide and a presence in five continents.
Dr Desai had his early education in Tanzania- where he completed his Senior Cambridge Examination with Distinction in English and History. He obtained his Medical Degree in Baroda, India- with a Gold Medal in Medicine. Subsequently, he completed his Urology Specialty training in America at the Lahey Clinic Medical Center in Boston, Massachusetts. He is Board-certified in Urology and was the Assistant Professor in Surgery at the University of Kentucky before joining Private Practice.
---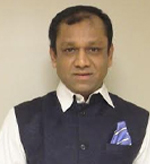 Rajender Dichpally
Director - Communications
Rajender Dichpally manages all of USISC's communication needs and public affairs. He oversees interactions with the member organizations, social communities and the media across the US and India. He has rich experience of over 18 years and has been involved with USISC for the last seven years.
In the past, Rajender has worked extensively on the US-India Civil Nuclear Deal. He has also organized meetings of the Indian Armed Forces Generals in New Jersey during their campaign for the US-India Civil Nuclear Deal. He was part of the team that hosted over 120 Senators and Congressmen in Washington DC in 2002.
Rajender has worked in many Indo-American organizations such as Indian American Forum for Political Education and Indian National Overseas Congress, to promote US-India Partnership.
Rajender holds a Master's Degree in Computer Science from the New York Institute of Technology and is a certified Oracle, C and Unix programmer. He has been recognized as the Best Area Governor in ToastMaster's (District 46).
Rajender is an avid sports and wild life lover and enjoys running.
---